ArcSource is an IT services firm based in the Bay Area, serving San Francisco and the East Bay since 1998.
We take care of all your technology needs, starting with the big idea that you need a lot more than help with just hardware and software. For us, business-to-business is really "people-to-people". That's why we believe that people come first in everything (ArcSource Core Value #1).
Our Approach
We think it's worth putting in that extra bit of magic to make the work we do stand out for our clients. This all comes together through what we call "The ArcSource Way"—our proactive approach to meeting the needs of the modern office environment. It's a combination of our highly trained tech wizards, continuously refined processes, and the tools and technologies we use to get really great results for our clients.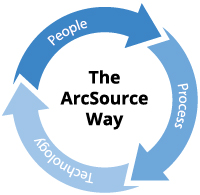 People
The ArcSource team is built around good communication, proactive problem solving, long-term relationships, and excellent client service. As a strong and diverse organization, we bring a varied skill set to every client project.
Process
We believe processes give structure to brilliance (ArcSource Core Value #10), which is why the work we do is process-oriented: meticulous and measured twice.
Technology
Simply put, we love helping businesses use technology. We're constantly looking for technology solutions that meet the needs of our clients and proactively keep them informed of the latest trends, good and bad.
Our Core Values
We wouldn't have made it to where we are today without hard work, a focus on excellence, and remembering to have some fun along the way. Our twelve core values sum up what is most important at ArcSource and guide our principles for thoughts and action. They are our commitment to our staff, our clients, and our vendors.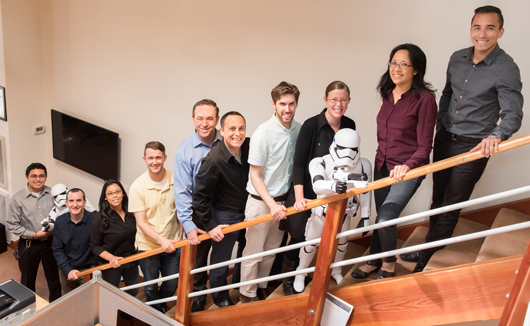 We believe people come first in everything.
 We believe integrity is not optional.
 We believe in having fun and laughing often.
 We believe technology is awesome.
 We believe "proactive" isn't just a cliché.
 We believe relationships are essential.
 We believe in pursuing continuous improvement.
 We believe excellence requires attention to detail.
 We believe a full toolbox leads to great work.
 We believe processes give structure to brilliance.
We believe ability is nothing without dependability.
We believe diversity makes us stronger.
Our Mission
is to partner with our clients towards their success, sharing expert knowledge and solutions, delivering world-class technical services, and providing a phenomenal customer experience.
Our History
Founded in 1998 by Dave Monk, ArcSource's beginnings can be traced back to an architecture firm, where Dave worked as a designer and also maintained the firm's growing computer network. As his secondary role as the "in-house IT guy" became an increasing responsibility, Dave witnessed first-hand the lack of reliable and knowledgeable IT management for professional service firms.
After years of serving in the AEC industry (Architecture, Engineering, Construction), Dave decided to start his own IT company — combining his passions for business and technology. Our expertise with architects, creatives, and other professional service firms continues to be a trademark of ArcSource.