"Our offering is called ArcSource Managed Care and it starts with the big idea that companies need a lot more than help with just hardware and software."
Dave Monk
CEO of ArcSource

ArcSource Managed Care is the total IT solution — taking care of your strategy, infrastructure, and support needs inside a flat-fee monthly agreement. Our fully managed IT services keep your systems up and running so that you can focus your efforts on the demands of growing your organization and supporting your clientele.
Our Approach
Every business needs four things related to technology: expert strategic advice, rock-solid infrastructure, modern security, and responsive technical support. ArcSource delivers it all. "The ArcSource Way" is our proactive approach to addressing the changing conditions of the modern office environment. It's a combination of our highly trained people, continuously refined processes, and scalable technology.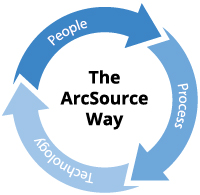 Overview of Services
ArcSource Managed Care is organized into four service delivery areas: Support Services, Proactive Services, Consulting Services, and Central Services.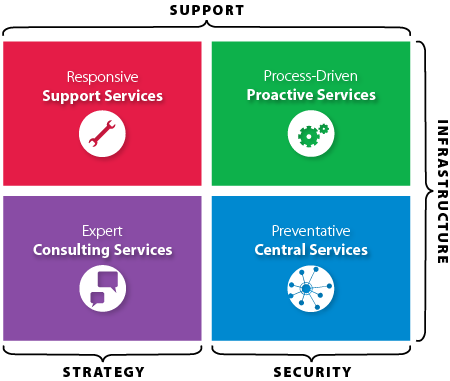 Responsive Support Services
Unlimited access to the expert ArcSource support team for help with all your hardware, software, and mobile device issues.
Process-Driven Proactive Services
Protecting and managing your network, systems, and data through ArcSource best practices and standards.
Expert Consulting Services
Aligning technology solutions to your needs and business goals with Virtual CIO advisory services, regular consultation meetings, and more.
Preventative Central Services
24/7 monitoring and maintenance of all IT systems using ArcSource's centralized agent-based tools, processes, and our Backup & Disaster Recovery services.
Benefits of ArcSource Managed Care
Unlimited technical support
Remote monitoring and alerts
Automated maintenance and patching
Software license management
Security scans and updates
Hardware inventory
Fully managed backups
Cloud services management
Full network documentation
Regular proactive network admin visits
Network and Security assessments
Virtual Chief Information Officer (vCIO) advice and consulting
Ongoing strategic business review IT consultations
Now looking ahead...
"Since we went on ArcSource Managed Care, we've been able to transition away from putting out fires and are now looking ahead, getting things out in advance of them becoming obsolete. We're happy with the minimal amount of downtime that we used to suffer from."
Cory Creath, AXIS Architecture
It was night and day...
"Our previous IT provider was a guy who came when it was his schedule, at his own time frame. He had no respect for our needs or any emergencies we had… always came in after hours and just never responded. It was night and day when we switched over to ArcSource. I think you guys are a very talented team. And I would say, in the IT world, often overlooked but highly essential. We always come to you when we are in a panic or in a need and you guys have always been there for us."
David Kim, Harriman Kinyon Architects
I have more time to work!
"The amount of time required of me as the in-house IT person and liaison has steadily declined since we brought ArcSource on board, and that's great. I have more time to work! Our staff feel that there is an organization there to help them with any type of problem. The transition from a Mac-based office to a PC-based office went very smoothly, and we've had virtually no issues with the ArcSource installed hardware/systems."
Christian Cutul, Paulett Taggart Architects