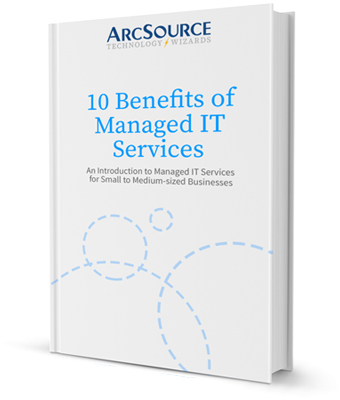 How Can Managed Services Help My Business?
This ebook is an introduction to managed IT services for small to medium-sized business owners and executives.
We've put together a free ebook to educate those interested in moving to modern managed services, how it differs from traditional ("break-fix") IT practices, and how it can help your business eliminate costly downtime, increase employee productivity, and decrease IT costs.
With this ebook, you will learn:
Differences between traditional IT ("break-fix") and modern managed IT practices
Pros and cons of both in regards to small and medium-sized businesses
How to calculate the cost of downtime for your business
And more!
Now looking ahead...
"Since we went on ArcSource Managed Care, we've been able to transition away from putting out fires and are now looking ahead, getting things out in advance of them becoming obsolete. We're happy with the minimal amount of downtime that we used to suffer from."
Cory Creath, AXIS Architecture
It was night and day...
"Our previous IT provider was a guy who came when it was his schedule, at his own time frame. He had no respect for our needs or any emergencies we had… always came in after hours and just never responded. It was night and day when we switched over to ArcSource. I think you guys are a very talented team. And I would say, in the IT world, often overlooked but highly essential. We always come to you when we are in a panic or in a need and you guys have always been there for us."
David Kim, Harriman Kinyon Architects
I have more time to work!
"The amount of time required of me as the in-house IT person and liaison has steadily declined since we brought ArcSource on board, and that's great. I have more time to work! Our staff feel that there is an organization there to help them with any type of problem. The transition from a Mac-based office to a PC-based office went very smoothly, and we've had virtually no issues with the ArcSource installed hardware/systems."
Christian Cutul, Paulett Taggart Architects